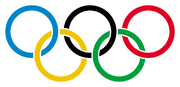 The Chōjin Olympics (超人オリンピック, Chōjin Olympics) is a fictional tournament from Yudetamago's manga and anime series Kinnikuman and its sequel Kinnikuman Nisei.
About
The Chōjin Olympics is a tournament arranged and held by the Intergalactic Chojin Committee (宇宙超人委員会, Uchū Chōjin Iinkai) in order to decide who is the top Chojin in the world. Currently 22 tournaments have been held, but only 20th, 21st, and 22nd Tournaments have taken place in the story. For some reason, the main battles are always held in Japan.
In Kinnikuman Nisei it is established that the Chōjin Olympics originated on Earth in Greece.
Participation, Rules, etc.
Participation
Basically all Chojin are capable of participating, excluding banned competitors like the Seven Akuma Chojin. For the 22nd Tournament, the tournament was limited to only "23 year old or younger Justice Chojins". The only over-aged competitor was Kani Base.
Chojins must win their own nation's qualifying rounds in order to earn the right to travel to Japan and compete in the main tournament.
Rules
See Chojin Wrestling Rules. In addition to these, there are matches with special rules such as the Deportation Match and the Coffin Death-Match
Each Chojin is allowed one second who must be from the same country as them.

In the anime dub, this second must also be a chojin and not have battled any of their wrestler's upcoming opponents at any point in time prior to their wrestler's matches [1]
Other
The Champion must go on a world tour of title defence matches.
The Champion is awarded the Chojin World Heavyweight (世界超人ヘビー級, Sekai Chojin Hebii-kyuu) belt.
There are also circumstances which can result in the champion being stripped of the title.
Tournament History
6th Tournament
9th Tournament
10th Tournament
11th Tournament
18th Tournament
19th Tournament
Main Article: 19th Chojin Olympics
20th Tournament
Main Article: 20th Chojin Olympics
21st Tournament
Main Article: 21st Chojin Olympics: The Big Fight
22nd Tournament
Main Article: Chojin Olympics: The Resurrection
Champion History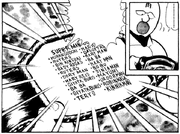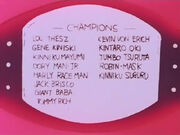 All names are presented as they appear on the back of the Championship Belt (with the exception of Kevin Mask) as seen in chapter 52 of Kinnikuman.
References
↑

Ultimate Muscle: Episode 71