Seigi Chōjin (

正義超人,

Justice Supermen

)
are Chōjin who use their powers for the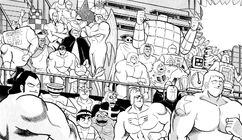 sake of justice, mainly battling monsters in earlier chapters. There are said to be 1,000 of them on Earth. They were founded by
Silverman
.
Particularly popular Seigi Chōjin are referred to as Idol Chojin (Kinnikuman, Terryman, Robin Mask, Ramenman, Warsman, Buffaloman, Geronimo, Brocken Jr., Wolfman, Ashuraman, Neptuneman).
Friendship is absolute for Seigi Chōjins, and if for some reason a crack begins to appear in their friendship the ancient Iron Sweat (アイアン・スエット, Iron Sweat) begins to flow from their bodies. It continues to flow and weigh them down until their friendship is restored.
Community content is available under
CC-BY-SA
unless otherwise noted.