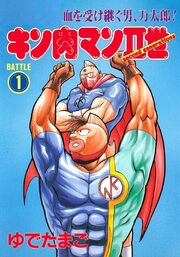 Kinnikuman Nisei (キン肉マンⅡ世, Muscleman Second Generation), also known as Kinnikuman Second Generations, is a manga series by Yudetamago. It has been published in Shueisha's Weekly Playboy since 1998.
Summary
A group of Devil Chojin calling themselves the d.M.p attack Earth. The Justice Chojin try to stop them, but - due to their old age - they do not stand a chance against the younger and more vigorous fighters. They decide to reopen the Hercules Factory and train a new group of Justice Chojin, who will challenge the d.M.p.
Story
(More to Come)
List of Arcs
Main Article: List of Kinnikuman Story Arcs
List of Chapters
Main Article: List of Kinnikuman II Sei (Ultimate Muscle) chapters
Characters
Main Article: List of Kinnikuman Nisei characters
Manga Series
Anime
English Dub
Japanese (Original)
Main Series
Movies
Games
Dream Tag Match (2002)
New Generation vs. Legends (2002)
Path of the Justice Chojin (2002)
The Holy Chojin History (2003)
References
Community content is available under
CC-BY-SA
unless otherwise noted.