Justice Chōjin vs. Warrior Chōjin (正義超人vs戦士超人, Justice Chōjin vs. Warrior Chōjin) is the seventh and final theatrical film based on the anime series Kinnikuman.
About
It was released in Japan on December 20, 1986 alongside GeGeGe no Kitarō: Crash!! The Great Rebellion of the Multi-Dimensional Yōkai and Dragon Ball: The Legend of Shen Long.
This movie was loosely based on Yudetamago's manga, Death Game, which itself was based on the Bruce Lee movie, Game of Death.
The character Neptuneman appeared in the original manga and anime as the main antagonist of the Dream Choujin Tag Arc. Seiyu Chikao Otsuka returns as one of the main antagonists of this film, having previously played that role in The Stolen Championship Belt.
Summary
Meat has been kidnapped by Iron Mask (鉄仮面,, Tekkamen). In order to save Meat-kun, the treasure of Inmora Island is needed. Furthermore, the treasure is hidden in the Seven Story Tower, which is guarded by the brutal Senshi Chōjins (戦士超人, Senshi Chōjins) AKA Warrior Chojin. When Kinnikuman asks Terryman and the Justice Chojin to help him, for some reason they all refuse. Alone, Kinnikuman heads to Inmora Island in the South China Sea to fight the Warrior Chojin and is overwhelmed by their great numbers.
Gradually he gets worn out, and at that time Terryman, Ramenman and the others come running.They explain that the reason they had been cold-hearted was because they didn't want him to always rely upon them. Kinnikuman's courage is increased hundredfold and they all leap into the Seven Story Tower where the true fight begins. However, the Warrior Chojin boss Big Shinjō (ビッグ・シンジョウ, Big Shinjō) possesses the power hypnotism and learned of the Justice Chojins' weaknesses from Meat, and one by one the Justice Chojin are all defeated. Then Neptuneman arrives and he and Kinnikuman head for the first floor and defeat Big Shinjō.
They then discover that Iron Mask is really the Dr. Georg (ゲオルグ博士,, Georugu-hakase) of the Warrior Chojin and the treasure he wants are blueprints to a super weapon which he desires to invent. At that moment, Big Shinjō returns and takes the blueprint.. Kinnikuman and Neptuneman then attack them both with the Cross Bomber. Afterwards, Neptuneman takes Dr. Georg and Big Shinjō under his arm, flies away, and self-destructs.
Songs
Opening Theme
Kinnikuman Sensation (

キン肉マン旋風

) by Akira Kushida
Closing Theme
Kinnikuman Club (

キン肉マン倶楽部

) by

Akira Kamiya

(Kinnikuman)
New Characters
Dr. Georg (ゲオルグ博士, Georugu Hakase)
Also known as Tekkamen (

鉄仮面

Iron Mask

).
Great Ukon II (グレートウコン2世,, Gurēto Ukon Nisei)
Paper (ペーパー, Paper)
Big Shinjo (ビッグ・シンジョウ, Big Shinjō)
Myoo (ミョウオウ, Myōō)
Senju Kan (センジュカーン, Senju Kān)
Tohoten (トーホーテーン, Tōhōtēn)
Nioman (ニオーマン, Niōman)
Magorakas (マゴラカス, Magorakasu)
Cast & Crew
Cast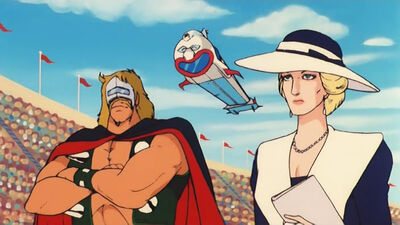 Trivia
References