Pri-Clun (プリクラン Puri Kuran) is a Croation wrestler styled after a photo-booth.
About
Pri-Clun is a feminine Croatian wrestler of indeterminable gender. When Pri-Clun takes a snapshot, everyone in their path is absorbed into the photograph. The name of this character is a parody of the "Print Club" photo-sticker machines that are all over Japan. Renamed Printman in the anime and Photo Pat in the English dub, the latter a reference to Saturday Night Live character Pat.
Story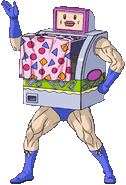 Pri-Clun debuts in the Chojin Olympics, as they fight Destruction. They are seen parachuting into the ring for his entrance.
[1]
Pri-Clun begins the match by enticing
Destruction
to take a photograph, which is a lead-in to their Smackdown Picture technique, but hurls him into a double-arm suplex before the photograph can be taken.
[2]
It is then they performs his Smackdown Picture, but accidentally takes a picture of the fans and kills them.
[2]
They exchange in a series of violent blows, which bloody Pri-Clun, and Pri-Clun eventually forces Destruction into a Smackdown Picture, but - when the picture is developed - they cannot see Destruction's head on the film (despite Destruction appearing headless in real-life). [3] Destruction hid his head within his body to avoid the attack, and captures Pri-Clun in an Avalancher Crush attack. [4] He then slices Pri-Clun into three pieces, thus ending the match and defeating Pri-Clun within 13 minutes and 43 seconds at the Fukuoka Dome. [5]
Techniques
Smackdown Picture

Pri-Clun takes a picture of the opponent, trapping them inside the photo. Then he destroy the picture with the wrestler inside it. This is his finishing move.
Tra La La!

Pri-Clun jumps high up while grabbing the opponent in a double-arm position.
Tra La!

Used after Tra La La! While up in the air Pri-Clun throws the opponent towards the ring with a double-arm suplex.
Dragon Screw

Arm Lock

Reverse Romero Special
Trivia
Submitted by: Keiko Muguruma (六車景子) of Hyogo.
References
Justice Chojin
Legends
Kinnikuman, Terryman, Robin Mask, Warsman, Brocken Jr., Geronimo, Wolfman, Buffaloman
New Generation
Mantaro Kinniku, Kevin Mask, Terry the Kid, Chaos Avenir, Gazelleman, Seiuchin
Female Chojin
Bibimba, Jacqueline Muscle, Fiona, Okan, Sayuri Kinniku
Community content is available under
CC-BY-SA
unless otherwise noted.