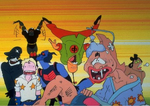 Satan (大魔王サタン Daimaō Satan) the shadowy Dark Lord of all Akuma Chojin.
About
Story
After the d

efeat of
The Man
by Akuma Shogun, Satan decides to take matters into his hands because he feels that Akuma Shogun is not a true Akuma Chojin. His first actions were to seal away the three factions in their headquarters and send out the Omega Centauri's Six Spears.
According to Omegaman Aristera, Satan is just a mere informant and says that the Six Spears don't serve anyone. However, Kinnikuman Super Phoenix claims that Satan's using the Six Spears as pawns in his plan.
Techniques
Career Information
Trivia
References
Community content is available under
CC-BY-SA
unless otherwise noted.