The Seven Akuma Choujin Arc (7人の悪魔超人編, Shichi-nin no Akuma Choujin-hen) is the eighth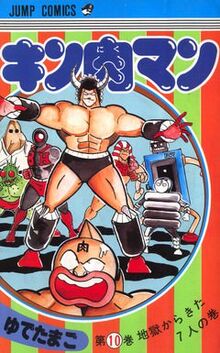 story arc in Kinnikuman.
About
Manga Chapters: 122-159
Anime Episodes: 48-65
New Characters
Summary
Deep in outer space, Seven Devil Choujins break free of their prison and are thirsting for chaos. Using Meat as their hostage, they demand to wrestle the Choujin Olympic champion, Kinnikuman.
Fights
Notes
The final eps of this arc advertise the Kinnikuman Robo Wrestler (ロボレスラー) toys.
Community content is available under
CC-BY-SA
unless otherwise noted.