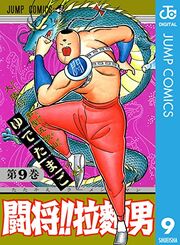 Tatakae!! Ramenman (闘将!!拉麵男, Tatakae!! Ramenman "Fight!! Ramenman"), also known as Lomien Man,[1] is a manga authored by the duo of Yudetamago that was serialized in Shueisha's Fresh Jump magazine from
About
June 1982 to December 1988 (concluding along with the cancellation of the magazine itself). The title is a spin-off of the authors' previous work, Kinnikuman, focusing around the character of Ramenman, who travels the land to fight various enemies. Like its predecessor, it was adapted into an anime version by Toei Animation, which spans a 35-episode television series that aired on Nippon Television in 1988 and a theatrical film. A video game for the Family Computer was published by Bandai in 1988.
Summary
Set in a land where several martial arts styles collide, including (but not limited to) Chinese Kung Fu, Japanese Karate, and South Korean Taekwondo. Yet amongst these Shaolin-trained fighters and men powerful enough to cut the face of a mountain, Victory Ramenman is said to be the strongest of them all. At a young age, he witnessed his father Somenman being murdered by members of the Cobra Gang (who are still running rampant to this day). Found and taken in by the wise old Chen Zongming, Ramenman trains for 12 years under his master and learns the great Essential Battle Dragon (闘龍極意書, Toryu Gokui Sho) style of Chojin Kung Fu. Now, with his young sidekick Shumai, Ramenman travels the land seeking vengeance for his father, fighting several villains along the way.
Characters
Main Article: List of Tatakae!! Ramenman characters
Anime
The Tatakae!! Ramenman anime was broadcast between January 10~September 11, 1988, every Sunday from 10:30~11:00 on NTV. 35 episodes were made before its cancellation.
Episodes
Main Article: List of Tatakae!! Ramenman episodes
Staff
Original Author: Yudetamago
Planning: Kazuo Shimamura, Yoshio Takami, Kyoutarou Kimura, Hidehiko Takei
Producer: Masahisa Saeki
Writing: Haruya Yamazaki, Kenji Terada
Series Director: Masayuki Akihi
Other Directors: Yasuo Yamayoshi, Takeshi Shirato, Takashi Kuoka, others
Character Design: Yasuhiro Yamaguchi
Background Art Design: Makoto Sakamoto
Music: Keiichi Oku
Main Cast
Theme Songs
Both are performed by Junichiro Oda.
Changes from Manga Version
Main Article: Manga to Anime Changes#Tatakae!! Ramenman
Movie
Manga
001. : The Birth of Ramenman!!
002. : Poison Fist!!
003. Touryuu Gokui Sho (manga chapter)
004. : The Secret of the Gokui Sho!!
005. : Revenge!!
006. : Attack the Darkness!!
Games
The Explosive Chojin 102 Gei (1988)
References
Community content is available under
CC-BY-SA
unless otherwise noted.