The Ruralman (ザ☆農村マン) is the opponent of Mantaro Kinniku in the Japanese preliminaries of the Chojin Crown, and later his second/trainer.
About
A farmer who loses the Japanese preliminaries to Kinniku Mantaro, and who later acts as a second to Mantaro during the Chojin Crown Finals after Meat is injured. He and he has JA on his shirt in the manga and こめ in the anime. In the English dub, he is known as "El Nino".
Story 
(More to Come)
When Mantaro grows disheartened, The Ruralman offers him reassurance and says that he will signal when it is time to use the Muscle Millennium, with the signal being "rich harvest". [1] Mantaro later worries when seeing The Ruralman so casual and relaxed. [2] After Mantaro uses the technique despite not receiving the signal, The Ruralman cries in response to the defeat and apologises to Meat Alexandria for having failed as a Mantaro's second. [3]
Techniques
Thresh Suplex
Rice Harvest Savate
Straw Hat Revolution
Guillotine Leg Drop
Career Information 
Win/Loss Record (Single)
X Mantaro Kinniku (Turnover Kinniku Buster)
References
Justice Chojin
Legends
Brocken Jr., Buffaloman, Geronimo, Kinnikuman, Robin Mask, Terryman, Warsman, Wolfman,
New Generation
Chaos Avenir, Gazelleman, Kevin Mask, Mantaro Kinniku, Seiuchin, Terry the Kid
Female Chojin
Bibimba, Fiona, Jacqueline Muscle, Okan, Sayuri Kinniku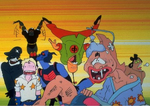 Community content is available under
CC-BY-SA
unless otherwise noted.