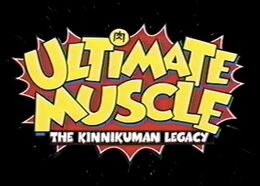 Ultimate Muscle
is the English dubbed version of the
Kinnikuman Nisei
anime. The latter series was commissioned by 4Kids and was created for a primarily American audience, which took creative liberties with the plot and made some changes due to necessary censorship. This series did badly in Japan, but was very popular in the West.
Episodes
Main Article: List of Ultimate Muscle episodes
Voice Actors [1]
Alexandria Meat: Pollock, Meat
Kinniku Suguru: Thompson, Marc
Kevin Mask: Lewis, Ted
Terry the Kid: Abbey, Gregg
Brocken Jnr.: Grayson, Wayne
Buffaloman: Green, Dan
Checkmate: Grayson, Wayne
Clioneman: Green, Dan
Bone Cold: Schemmel, Sean
Dead Signal: Arcelus, Sebastian
Gazelleman: Stuart, Eric
Jade: Grayson, Wayne
Keiko: Williams, Kerry
Ataru Kinniku: Stewart, Eric
Bininba Kinniku: Taylor, Veronica
Tamaki Maekawa: Hollingshead, Megan
MAXman: Green, Dan
Harabote Muscle: Dunstan, Darren
Kazuo Nakano: Lewis, Ted
Rinko Nikaido: Ortiz, Lisa
Ramenman: Thompson, Marc
Rex King: Thompson, Marc
Robin Mask: Green, Dan
Scarface: Thompson, Marc
Sunshine: Brimmer, David
Terryman: Lewis, Ted
Producer: Kimura, Kyotaro
Director: Komura, Toshiaki
Episode Director: Imazawa, Tetsuo
Episode Director: Kasai, Osamu
Episode Director: Ueda, Yoshihiro
Key Animation: Maru, Kanako
Key Animation: Miwa, Kazuhiro
Key Animation: Murata, Noriyasu
Key Animation: Nitta, Yasunari
Key Animation: Shida: Naotoshi
Background Art: Sugiura, Shouichirou
Original Creator: Yudetamago
ADR Director: de Oliveira, Drausio
Songs
Changes from Original Version
Names Changes
New Generation
Legends
Legends (Galactic Wrestling only)
Playable Characters
Toy Collection
Trivia
Plot Changes
Other Changes
Kinnikuman Nisei: Ultimate Muscle
In Japan, the Kinnikuman Nisei anime did poorly and was cancelled after the Poison Six Pack Arc. However, 4Kids Entertainment wished to finish the Chojin Crown arc, so they ordered new episodes which were first aired in America and then in Japan two years later. In Japan, the new episodes were aired as two new seasons entitled Kinnikuman Nisei: Ultimate Muscle and Kinnikuman Nisei: Ultimate Muscle 2.
References