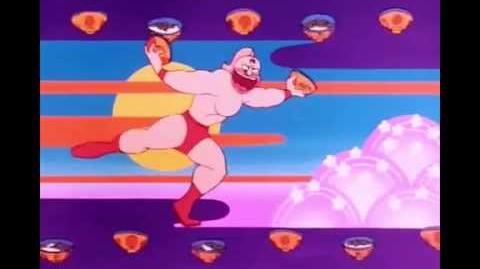 Yoshinoya (吉野家) is the largest chain among gyūdon restaurants and one of the leading fast food chains in Japan, which was established in Japan in 1899. It is often shortened to "yoshi gyū" (meaning Yoshinoya's beef) among its enthusiasts. Its motto is "Quick, cheap, yummy!!" (早い!!うまい!!安い!!, Hayai!! Umai!! Yasui!!). It was featured prominently in Kinnikuman, although the kanji for ya was usually changed from 家 to 屋, making it 吉野屋.
Kinnikuman's fondness for Yoshinoya brand gyūdon is often believed to have contributed to saving the company from bankruptcy in the early 80s. As thanks for this, Yoshinoya had special bowls made for Yudetamago with their name written in them.
A typical order might include ōmori (large size) beef bowl, raw egg (mixed with soy sauce and poured on top), a scoop of shoga (ginger) and a dash of spice. Little known to foreigners visiting Yoshinoya in Japan are the no charge special requests such as "tsuyudaku" (extra sauce) and the more rare "negidaku" (extra onions).
From 2004-2006, Yoshinoya had to stop serving gyūdon due to a BSE incident in Washington State, cutting off Yoshinoya's main source of short plate (fatty beef) that is the main component of its beef bowl.
Yoshinoya has seemed to have had a falling out with Kinnikuman however-- in 2008 rival restaurant chain Sukiya ran an advertising campaign featuring Kinnikuman characters and merchandise.
Yoshinoya Gyudon Song
The commercial jingle for Yoshinoya was sung by Kinnikuman's rock band in the manga and later is revealed to be the National Anthem for Planet Kinniku. He also recites the lyrics when fighting Daibutsura. This in turn inspired the Gyudon Ondo song sung by Kinnikuman in the anime.
Japanese Lyrics

Koko wa Yoshinoya
Aji no Yoshinoya
Gyūdon hitosuji
Hachijū Nen
English Translation

This is Yoshinoya
Tasty Yoshinoya
Making Gyūdon
For 80 Years
External links
Community content is available under
CC-BY-SA
unless otherwise noted.